Landscaping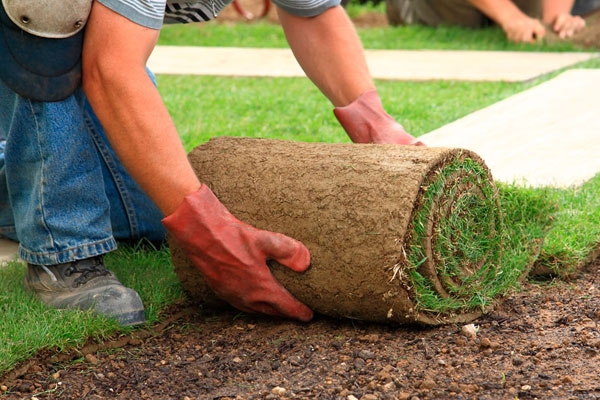 Rispens has earned its stellar reputation in the landscape construction business with their unique abilities in landscape design, installation and maintenance. Rispens brings a commitment to quality workmanship which is evident to all who see the finished product.
A full-service provider
When upgrading your outdoor area, it's always better to use the same company for all aspects of the project. You can avoid the complications that result when trying to integrate different aspects of design when they have been assigned to multiple contractors.
Our consultation process is comprehensive. By working with one full-service provider, your unique vision for your personal environment can be realized with a proven turnkey approach that guarantees your satisfaction. With a seamless integration of all aspects of your personal project, you can be assured that your dream will be realized without disappointment or confusion.
From landscape construction, both residential and commercial, to irrigation installation and maintenance as well as project design and planning, Rispens is your proven one-stop provider. They also provide maintenance services associated with these various fields.
Landscaping Designs
Whether you're looking to purchase a new home, or you've lived in your home for years, there's no time like now to make some updates.
If your property isn't exactly how you want it, why settle? If you're not happy with the color of your walls, you can always repaint them, so why should your outdoor space be any different? The only thing limiting you is your imagination!
Rispens Landscaping Ltd. is driven by a few key ideas. In our view, functionality is central to any good design. Any design needs to be aesthetically pleasing while being practical and sustainable. We take into account all existing factors including erosion potential. Our landscape designs will remain in great shape for years to come.
We also take into consideration the climate. There are certain plants that, no matter how hard you try, simply won't flourish because they aren't meant to in our environment. We will work hard to provide you with alternatives that are native to our area and can survive in our climate. Not only does this create a garden that works with nature instead of against it, it also reduces the time and energy required to maintain it.
Finally, Rispens Landscaping Ltd. strives to design landscapes that will make a lasting impression with their beauty and intricacy. By highlighting existing features of the landscape, we create a natural-looking area that capitalizes on the strong suits of your property. We then further enhance these features it with additional custom designed elements intended to be unique statements of outdoor artisanship.
---